PARASAILING
Experience the thrill of parasailing in Cabo San Lucas! You're pulled behind a motorboat, hundreds of feet in the air, giving you amazing aerial views of Cabo San Lucas, Los Cabos and the Baja area of Mexico. You'll fly over El Arco, Pelican Rock, and Lover's Beach as only an eagle might see them. We offer single and tandem parasailing flights, giving you even more options to enjoy your experience. Parasailing is easy, even for beginners, and an activity to remember!

Cruise Passengers:
Yes! This activity is perfect for a cruise shore excursion.
Runs: Daily, during daylight hours.
THE CABO SAN LUCAS TOURS ADVANTAGE
The only difference between booking through us and on the beach is the price! No hassles, no haggling!
Plus you get our exclusive Cabo Fun card absolutely free!
Duration: 10 minutes approximately.
Departs: The Marina in Cabo San Lucas. Detailed directions will accompany your confirmation.
Includes: Single or Tandem Parasailing Flight, Life Jackets.
Don't Forget:
Kids: No age limit - we respect your judgment. Kids same price as adults.
Restrictions: Weight limit is 350 lbs maximum, 130 lbs minimum. On Tandem, total weight between the two people must be under 330 lbs. If you are over this weight limit, please contact us. We may be able to accommodate depending on availability of our higher weight limit setup. The boat can only hold 10 people so larger groups will need to split up. For your own safety, we don't allow cameras during this tour, only before and after.
PARASAILING - SINGLE

Ship Price

Hotel Price

Our Price

You Save!

NOT AVAILABLE!
$50.00

$42.50

10%

PARASAILING - TANDEM

Ship Price

Hotel Price

Our Price

You Save!

NOT AVAILABLE!
$90.00
$76.50
10%

PARASAILING - RIDE ALONG IN THE BOAT

Limit for Ride-Alongs is 1 Passenger for every 2 Participants

Ship Price

Hotel Price

Our Price

You Save!

NOT AVAILABLE!
$15.00
$12.50
10%
BOOK NOW AND SAVE!

Qty is the number of Parasailing flights you want. If two people want to fly together at once, choose a Qty of 1, Tandem and "Book Now". If you have another person who wants to ride along in the boat, click "Add More Tours" in the shopping cart, and add them to your cart too, choosing "Observer".

Date

Time

Qty

Type



OR CALL US TOLL-FREE
1-866-348-6286


Don't worry - English is our First Language!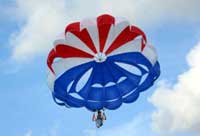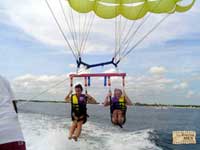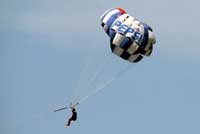 FREE WITH YOUR RESERVATION!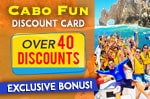 THE CABO FUN CARD
OUR ADVICE:
Our parasailing activities are closely regulated - your safety is our primary concern.

Return to
Beach Activities